Luxury Baby Gear: Must-Have Items for the picky parent.
We all seek the very best for our little ones, the families you work with are no different, and that includes luxury baby gear. As a nanny serving affluent families, it's essential to be well-versed in the world of high-end baby products to provide the best care and comfort to their precious children. In this guide, we'll explore a curated list of must-have luxury baby gear items that can elevate the experience for both the baby and the parents. Recommending some of these products to your family shows how knowledgeable you are both about what is best for the babies, and what is best quality for families looking for the best. 
Designer Strollers
One of the first things that come to mind when you think of luxury baby gear is a designer stroller. These stylish and high-performance strollers are not just a means of transport; they are a statement of luxury and class. They also provide a safe and comfortable way for both baby and caretaker to get around when out and about. Here are a few top picks:
   – The Bugaboo Cameleon3 is a favorite among celebrities for its sleek design and versatility. It's perfect for urban strolls and off-road adventures.
   – The Uppababy Vista V2 offers a luxurious and smooth ride. It's known for its spaciousness and excellent build quality.
   – The Silver Cross Wave Stroller exudes elegance and comes with a convertible design, making it suitable for growing families.
Remember, these strollers aren't just functional; they're fashion statements. Your choice should consider the family's lifestyle and preferences.
Designer Cribs
A luxury nursery isn't complete without a designer crib. These cribs are not only comfortable, safe and great for the baby but also add a touch of opulence to the nursery. They also offer peace of mind with highest level of safety. 
   – The Babyletto Convertible Crib is a masterpiece in design and craftsmanship. It can transform into a toddler bed and even a full-sized adult bed, ensuring long-term use.
   – The Stokke Sleepi Crib is known for its unique oval shape and adjustability, allowing it to grow with the child.
High-End Car Seats
Safety and comfort are paramount when it comes to car seats, and luxury car seats offer both, along with a touch of elegance. The children will be comfortable and the parents know they are safe.
   – The Britax Convertible Car Seat is renowned for its superior safety features, easy installation, and plush fabrics. Their carseats are really best of the best both in testing for safety  and in comfort.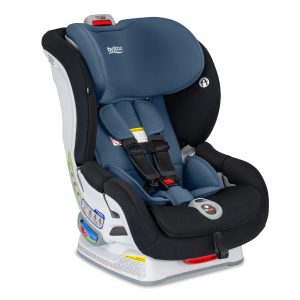 – Evenflo is known for its advanced safety technology and sleek design.
Maxi-Cosi Pria 85 Max Convertible Car Seat
   – The Maxi-Cosi Pria 85 Max combines style and safety, with premium fabrics and adjustable features.
Peg Perego is a tried and tested brand that brings high end design and safety to carseats.
Designer Diaper Bags
For UHNW families on the go, a designer diaper bag is not just an accessory but an essential item that complements their style.
  The Gucci Mushroom Diaper Bag is the epitome of luxury, with its iconic design and spacious compartments for baby essentials.
   – The Coach diaper bag is both fashionable and functional, perfect for fashion-forward moms and nannies.
Kate Spade New York Dawn Baby Backpack
   – The Kate Spade New York Dawn Baby Backpack offers a chic way to carry baby gear and keep it organized.
Organic Baby Bedding
Conscious families often prioritize organic and eco-friendly options. Organic baby bedding is a perfect choice to ensure the baby's comfort and well-being.
   – Newton is a trusted brand for organic mattresses, known for its quality and safety standards.
Burt's Bees Baby Organic Crib Sheet
   – Burt's Bees Baby offers organic crib sheets made from soft and sustainable materials. They also carry a whole line of baby skin care products.
aden + anais Organic Muslin Swaddle Blankets
   – These swaddle blankets are not only organic but also beautifully designed, making them a favorite among high-end parents.
High-Quality Baby Monitors
Keeping an eye on the baby is crucial, and high-quality baby monitors offer advanced features and superior quality.
   – Nanit Plus provides HD video monitoring, sleep tracking, and real-time alerts, ensuring peace of mind for parents and nannies alike.
   – The iBaby Monitor M7 comes with impressive features like air quality monitoring, two-way audio, and temperature and humidity sensors.
When it comes to luxury baby gear, UHNW families spare no expense to provide their little ones with the very best. As a nanny, being knowledgeable about these luxury items can help you better serve your clients and ensure the utmost comfort and safety for their children. Remember to consider the family's lifestyle and preferences when recommending these products.
By clicking on the links provided, you can explore these exquisite items on Amazon and help your families make informed choices for their precious bundles of joy. Your role as a nanny is not just about caregiving but also about enhancing the overall experience of parenthood for these fortunate families.
*Disclaimer: This blog post contains affiliate links to Amazon. When you make a purchase through these links, we may earn a commission at no additional cost to you. This helps support our blog and allows us to continue providing valuable content.*